Your child's vision is very valuable. Glasses are an important part of his eye care. They can help your child see better, develop normal vision and treat various visual defects.
Finding the perfect pair of glasses for your child can be a challenging but fun experience.
The opticians at Lindegger Optique will help you choose glasses for your children.
The prescription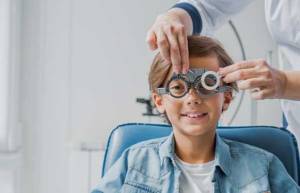 An accurate prescription is the most important element when choosing glasses.
You will need to have your child's eyes examined to find the exact prescription for the correction he or she needs, which may vary from eye to eye. Once you know the right prescription, you can choose the right glasses for him. Depending on the type of correction needed, a certain type of frame will be chosen.
Glass material
The second aspect to consider when choosing glasses for your child's eyesight is the material and thickness of the lenses.
The type of glass you should choose for your child is unbreakable glass. There are two types of impact resistant glass: organic glass and polycarbonate. The material most frequently recommended by opticians for children is polycarbonate.
The scratch-resistant polycarbonate is fully compatible with all forms of correction and helps reduce the risk of eye disease. The advantage of this material is its strength and resistance to impact. Therefore, in your child's inevitable mishaps, these glasses will not break or cause damage.
The polycarbonate also filters 100% of UV rays. UV rays can damage the eyes, so it's important that your child wears eyewear that protects against these harmful rays. Although it is the most durable material, polycarbonate is quite light, which contributes to the aesthetic appeal and helps your child adjust to the glasses quickly.
To further protect your child's eyes when they are playing on their cell phone or watching television, choose lenses with blue light filtering options to avoid irritation or dry eyes and in some cases headaches.
The frame: metal or plastic?
Today, there are comfortable and innovative frames adapted to children. Parents are now offered a variety of frames, offering a range of different benefits.
In general, there are two types of frame materials: metal and plastic.
In the past, plastic frames were the best choice for young children because they were considered more durable, lighter, less likely to warp or break and less expensive. But nowadays, manufacturers are making metal frames with the same advantages.
We can also choose a frame according to your child's age. If your child is under 5, plastic frames are the best option – they don't mark the nose or squeeze the head, and are completely safe. Metal frames can only be considered when your child is a little older and can pay attention to their glasses.
Finally, when choosing the material for your children's frames, remember to ask for frames made with hypoallergenic materials. Children are generally allergic to the alloys commonly used in the manufacture of eyeglass frames. For example, your child may be allergic to the nickel in the metal frames, causing discomfort.
The comfort
Children's eyewear is generally designed with optimal comfort in mind. The chosen pair of glasses must be practical, robust and comfortable, and must perfectly fit the shape of the nose in order not to slip at the slightest movement.
Silicone nose pieces are a great option, as they are very soft and comfortable on the child's face and also help prevent slippage, ensuring that the glasses stay in place no matter what your child does.
When choosing an eyeglass frame, look for a frame shape that is tall enough, preferably round, that covers the entire field of vision and rises above the eyebrows, as children, especially small ones, are forced to look up. In addition to a comfortable frame, flexible, soft temples that wrap around the back of the ear are ideal, as they are more resistant to falls. You can also equip the glasses with a holding cord to avoid misplacing them.
Your children's opinions
Most children will be embarrassed to wear glasses for the first time, and the best way to overcome this initial hesitation is to include your child in the search for glasses. Indeed, it is your child who will wear his glasses all day long and his opinion and taste in the choice of glasses are therefore essential and must be taken into account.
It is essential that your child feels comfortable and confident wearing glasses. There are countless models of glasses on the market, look for more colorful, modern and attractive frames. Finally, the most important thing is that your child's glasses build self-esteem and enhance their personality.
Warranty and a spare pair
We strongly recommend that you purchase a warranty, especially if you have a young child who will be wearing glasses for the first time. This warranty provides free or short-term replacement of eyeglasses in the event of damage to frames or lenses.
Since children can easily break their glasses, it is a good idea to keep a second pair of glasses (spare pair), especially if your child has a strong prescription and cannot see or read without his or her glasses.
Browse our catalog to find a wide range of brand name eyewear for children.