What is dry eye?
Dry eye, also known as "dry eye syndrome", is a common condition that develops when your eyes do not produce enough natural tears or when the tears produced dry up too quickly, reducing the lubrication of your eyes. Tears can be insufficient for many reasons such as hormonal changes, environmental conditions or as a side effect of certain medications and cosmetics.
Symptoms of dry eye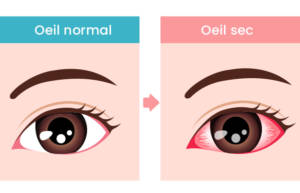 If you have been experiencing any of these symptoms for some time, you may be suffering from dry eye syndrome:
Red eyes
Itchy eyes
Light sensitivity
A feeling of dust or sand in the eyes
Difficulty wearing contact lenses
Blurred vision or eye strain
Burning sensation
Can contact lenses cause dry eyes?
Despite the introduction of advanced lens materials, some contact lens users still experience dryness and discomfort, especially at the end of the day.
Contact lenses can cause dry eyes when the lenses, placed on the cornea of the eye, restrict the flow of oxygen to the eyes and reduce natural tears.
Which contact lenses are best for dry eyes?
Daily disposable contact lenses
Daily disposable contact lenses are a great option for contact lens wearers with dry eyes, as they are disposable at the end of each day. This means that protein and dirt deposits, which can cause discomfort, are less likely to accumulate. The problem of lenses drying out due to incomplete cleaning is also avoided. Since daily lenses are discarded daily, they are more hygienic than lenses that must be kept overnight in a cleaning lotion.
Among the most popular daily disposable contact lenses for dry eyes are: Dailies AquaComfort Plus, Dailies All Day Comfort, Dailies Total One, Acuvue Oasys 1-Day, Biotrue ONEday.
Monthly contact lenses
This solution is equally effective over a period of one month.
Air Optix, Air Optix Multifocal, Air Optix Hydra Glyde are some of the best monthly contact lenses for dry eyes.
Silicone hydrogel contact lenses
Silicone hydrogel contact lenses are made from the newest and most innovative material available. They are a popular choice for contact lens wearers, not only because they are comfortable for people with dry eyes, but also because they offer more comfort than traditional hydrogel lenses.
Among the most popular silicone hydrogel contact lenses for dry eyes are: PureVision2 (Bausch & Lomb), Clariti 1 day Toric.
Scleral lenses for dry eyes
Standard soft contact lenses absorb moisture from the eye, while scleral lenses provide moisture. These large diameter rigid gas permeable (GP) lenses cover the entire surface of the cornea to prevent the anterior surface of the eye from drying out.
Also, when you insert a scleral lens on your eye, you first apply a saline solution, which fills the space between the cornea and the lens. This solution brings moisture to the irritated eye and promotes healing.
Eye drops
Sometimes contact lens-related dry eye can be resolved with the occasional use of eye drops called comfort drops, rehydrating drops or artificial tears.
While these lubricating eye drops generally provide only short-term relief from dryness symptoms, some drops may be more effective and longer-lasting than others, depending on the specific type of dry eye you suffer from. Your ophthalmologist at Lindegger Optique can suggest the best brands after examining your eyes.
Eye drops such as Biotrue Artificial Tears, Blink Intensive Tears Plus, Blink Contacts, Comfort Drops, Evo Tears are easy-to-use eye drops that moisten and refresh dry and irritated eyes, while stabilizing the tear film, which helps reduce discomfort. This way, you can wear your contact lenses longer without experiencing dry eye symptoms.
To learn more, contact our expert opticians at Lindegger Optique in Geneva.
Visit our online store to discover a wide range of contact lenses, care products and many other products for a better vision!