How to choose the right color for your sunglasses?
Today, sunglasses are considered an accessory that completes our outfit and protects our eyes from harmful UV rays during our outdoor adventures.
When we buy sunglasses, we often think about the style of the frame in terms of fashion and functionality, but we don't consider the effects of the shade of the sunglasses we choose.
Sunglasses are available in a wide variety of lens colors. The most common are gray, black, brown, green, yellow, orange, amber and red.
A well-chosen eyewear color will brighten up your look and enhance your eyes!
The expert opticians at Lindegger Optique suggest three important criteria to consider when choosing the color of your sunglasses: your eye color, your hair color and your skin tone.
Depending on the color of your eyes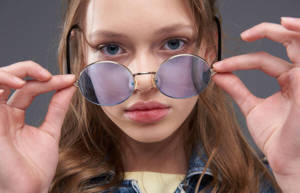 The color of your eyes can help you determine which lens color to choose.
Blue eyes

Although blue eyes can be matched with many frame colors, it is best to choose blue or gray eyeglass frames. Gray is a perfect shade for blue eyes and complements the eyes while blue enhances the freshness of your eyes.
For those with blue-gray eyes, choose a dark colored lens (black, midnight blue, dark purple) to enhance your eye color.
Brown and amber eyes

All colors are suitable for brown or amber eyes, from classic black to brighter shades. Women and men with brown eyes brighten their look with green and brown sunglasses. These natural-toned colors will make your eyes look brighter and create a beautiful color harmony.
Black eyes

If you have dark eyes, choose dark colors (brown, olive green, burgundy, midnight blue) or bright colors (red, plum, orange). You can also choose light colored glasses (pink, beige, peach) to soften your face.
Green eyes

Brown and mustard yellow are the perfect lens shades if you have green eyes. Red is a complementary color to green and will give a contrasting and vibrant look. Gold or purple frames will also have a stimulating effect.
Depending on the color of your hair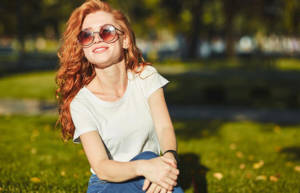 Blonde hair
Blonde hair goes especially well with light colors, such as sunglasses in pastel shades. If you have blond hair with light skin, gray and dark blue sunglasses will create a nice contrast. Whereas if you have blonde hair with warm skin color, try dark greens or rich reds instead.
Brown hair
Those with brown hair can opt for light blue or pink, which suit lighter skin tones, while darker skin tones can go for darker pinks and blues, or even black.
Black hair
Black hair is the most versatile when it comes to choosing the most suitable sunglasses color. Black, bright whites, vivid colors like green, red and purple can instantly enhance your look.
Red hair
Many colors are compatible with red hair, including warm variations such as copper, gold, orange and browns. Colors like green and blue are also a great choice!
Depending on your skin tone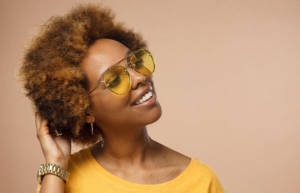 It is important to choose sunglasses that also match your skin tone.
Light skin
If you have fair skin, it's best to strike a balance by opting for darker shades of brown, gold or green. You can also sport a chic look with dark blue, black or hot pink glasses.
Matte or dark skin
Bright or dark colors work well with matte skin tones. If you have dark or matte skin, it is recommended that you wear discrete or dark colored lenses such as gray, silver, transparent, and gold. Bright colors like shades of yellow, orange or red will also enhance your complexion.
Browse our catalog to find a wide collection of sunglasses from top brands.
Do you have any questions? Contact our team at Lindegger Optique in Rive, Geneva.